VMware vRealize Log Insight is a log collection and analysis tool for troubleshooting across your VMware and accompanying environments. Yesterday, VMware released vRealize Log Insight 4.5. Most notably introduced in version 4.5, is a greater integration with VMware vRealize Operations. Admins can now access and interact with Log Insight within vRealize Operations. Also announced, are improvements to content packs, server features, GUI items and agent items. To get the full scope of release features, check out VMware's announcement and release notes.
With that, let's run through the process of upgrading vRealize Log Insight to version 4.5. A few items to note before upgrade:
To upgrade to 4.5, you must be running version 4.3. If you are on an earlier version, you need to incrementally upgrade to version 4.3. According to VMware's Product Interoperability Matrixes, these are the supported upgrade paths.
| | |
| --- | --- |
| Upgrade From | Upgrade To |
| vRealize Log Insight 4.0 | vRealize Log Insight 4.3 |
| vRealize Log Insight 3.6 | vRealize Log Insight 4.0 |
| vRealize Log Insight 3.3 | vRealize Log Insight 3.6 |
Unless specifically disabled, a rolling upgrade will be performed when the master node is upgraded to version 4.5. Meaning, the master node is upgraded first, restarts, then sequentially upgrades each cluster node. If you are manually upgrading, only upgrade one worker node at a time.
Always upgrade from the master node's FQDN. Using the Integrated Load Balancer IP address is not supported.
For those of you utilizing Active Directory Authentication, AD support is deprecated in 4.5. Log Insight supports VMware Identity Manager (VIDM) for SSO authentication.
For the purpose of this tutorial, Log Insight is already on version 4.3 and has only a master node. Let's get started!
Prep
Download the VMware vRealize Log Insight 4.5 Upgrade Package (.pak file).
Snapshot or backup the Log Insight appliance. Note – If there is an issue during the upgrade affecting one or more nodes, the entire cluster should be automatically rolled back to the last working version.
Upgrade
From the Log Insight GUI, click the navigation menu and select Administration.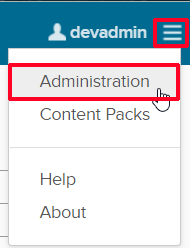 Next, navigate to the Cluster option under the Management section.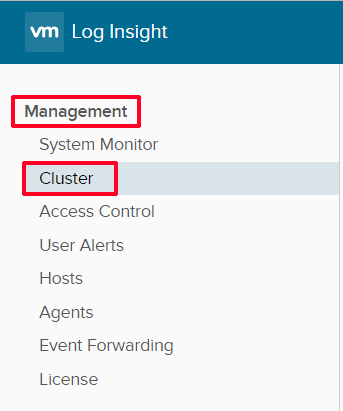 Under Cluster, click the Upgrade Cluster button.

Locate and Open the Log Insight .pak file.

A pop-up box will ask you to confirm the upgrade as well as remind you to snapshot the virtual appliance. Select Upgrade when ready to proceed.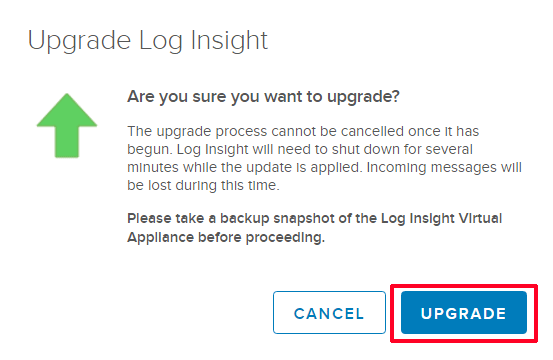 The upgrade package will now be uploaded.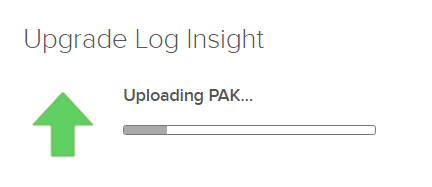 Once uploaded, you will be presented with the EULA. Read and click Accept to continue.

The upgrade will now begin. As mentioned previously, if you have more than one node, the master node is upgraded first. Followed by sequential upgrades to each cluster node.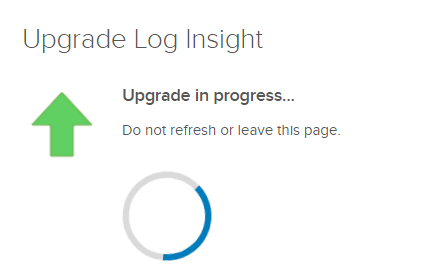 When the upgrade is complete, you will receive a success notification.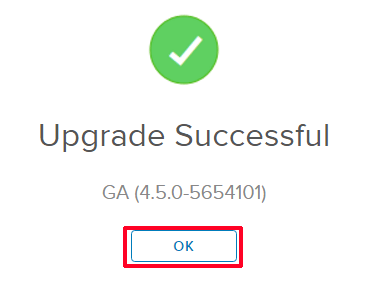 Done! You are now running Log Insight 4.5. Don't forget to remove your snapshot or backup.