One of my favorite features in vCenter 6.5 is the built-in Update Manager. VMware Update Manager (VUM) 6.5 is used to patch and upgrade vSphere ESXi hosts, virtual appliances, VMware Tools, and virtual hardware. Previous versions of the vCenter Server Appliance required a separate Windows machine to run Update Manager. For many admins, this was a deterrent in deploying VUM. Now that the embedded Update Manager leverages the vCenter Server Appliance Postgres database, there is no additional vms to install or management items to configure. Update Manager has proved to be tremendously handy in keeping environments properly updated.
If you are looking to upgrade your ESXi to vSphere 6.5, Update Manager is a solid choice. This post will focus on the process of upgrading ESXi 6.0 to 6.5 utilizing VUM.
This may go without saying, but before beginning, ensure your vCenter Appliance is at version 6.5.
To start the process, navigate to Update Manager from the vCenter Server Appliance Web Client.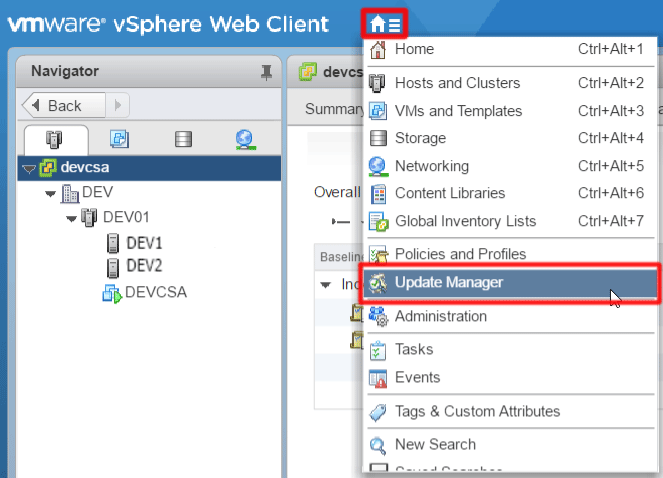 Import ESXi Image
Let's begin by importing our 6.5 ESXi Image. To do so, select the vCenter Server under Navigator. Click the Manage tab, navigate to ESXi Images, and finally click Import ESXi Image.

Browse to the ESXi Image location and select the ISO. Once selected, the upload process will begin.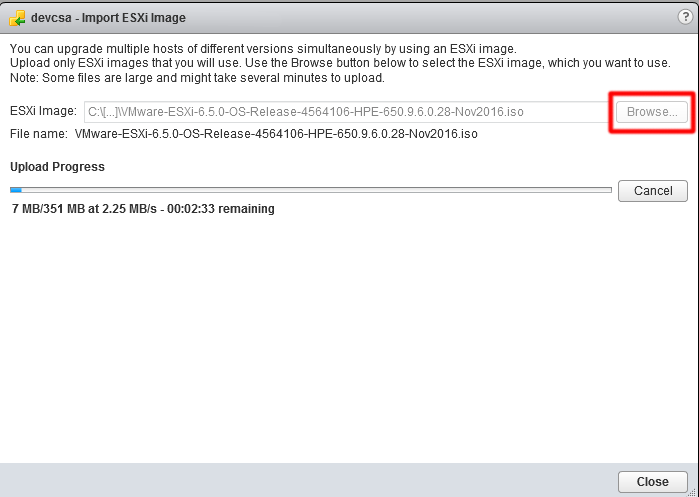 After uploaded, you will be provided a review of the ESXi Image information.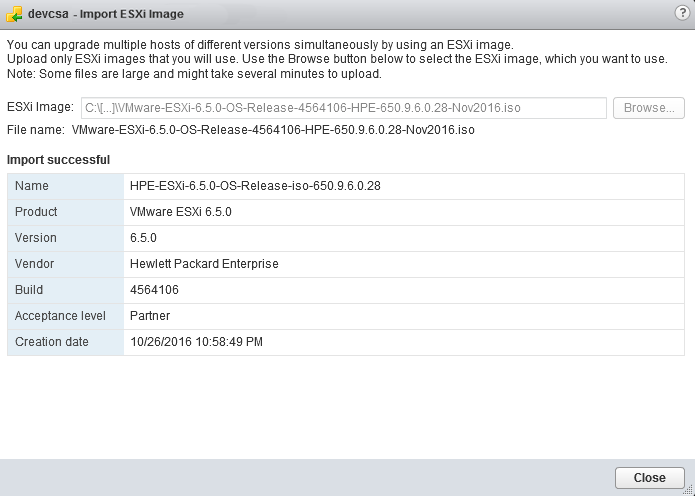 Create Baseline
Next, we will add this Image as a Baseline. Navigate to the Host Baselines tab and select New Baseline.

The New Baseline wizard will begin. Enter the Name and Baseline Type. In this instance, we will choose Host Upgrade.

Next, select the uploaded ESXi Image to upgrade.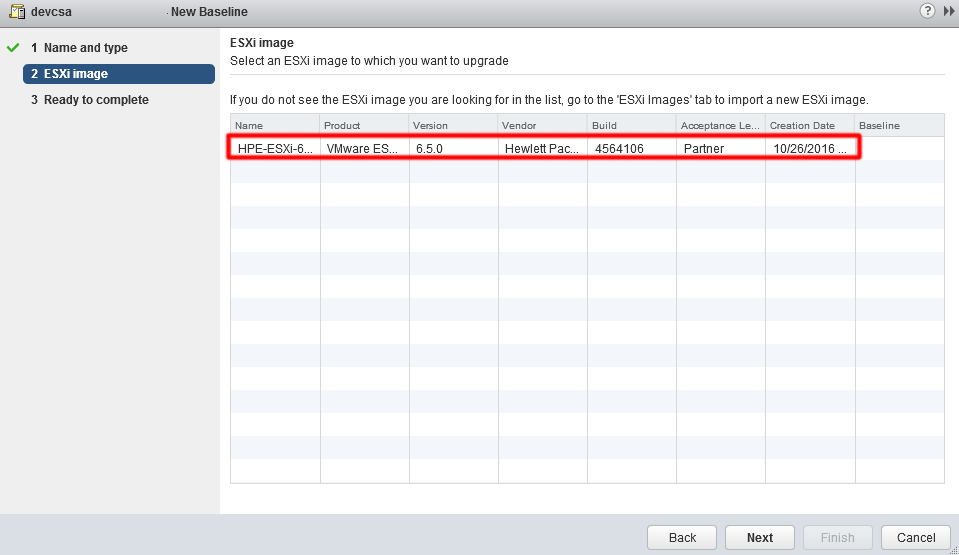 Review your selections and click Finish when ready.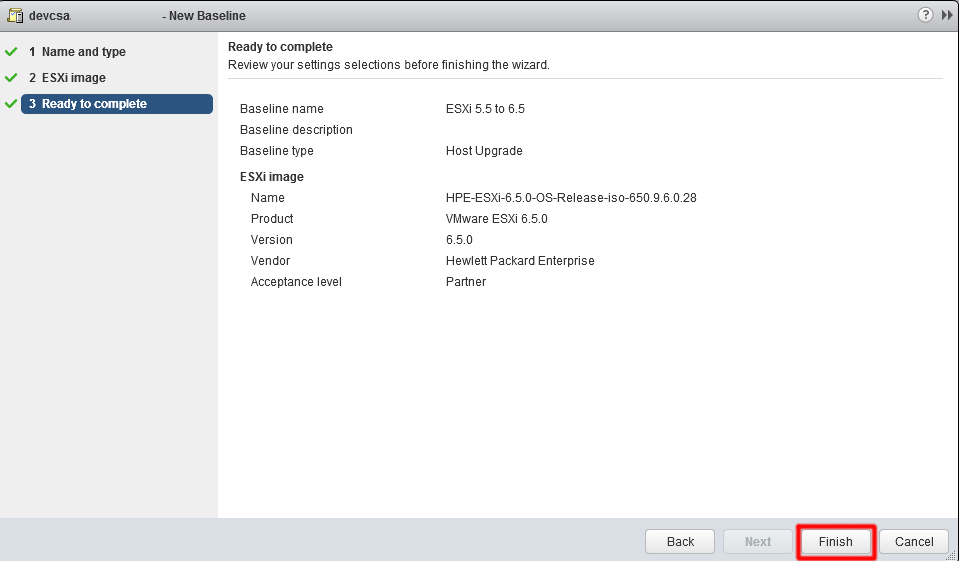 We have uploaded the Image and the Baseline is created. Our next step will be to Attach the Baseline to the cluster.
Attach Baseline
Select Go to Compliance View to begin.

With your cluster selected, choose Attach Baseline.

Select the pertinent Upgrade Baseline.

This next step is optional, but if you would like to verify the compliance of your Baseline, select Scan for Updates.

Remediate
In our last step, we will set our Remediation Options and begin the Remediation process. Click the Remediate Button to begin.

Select the correct Baseline to remediate.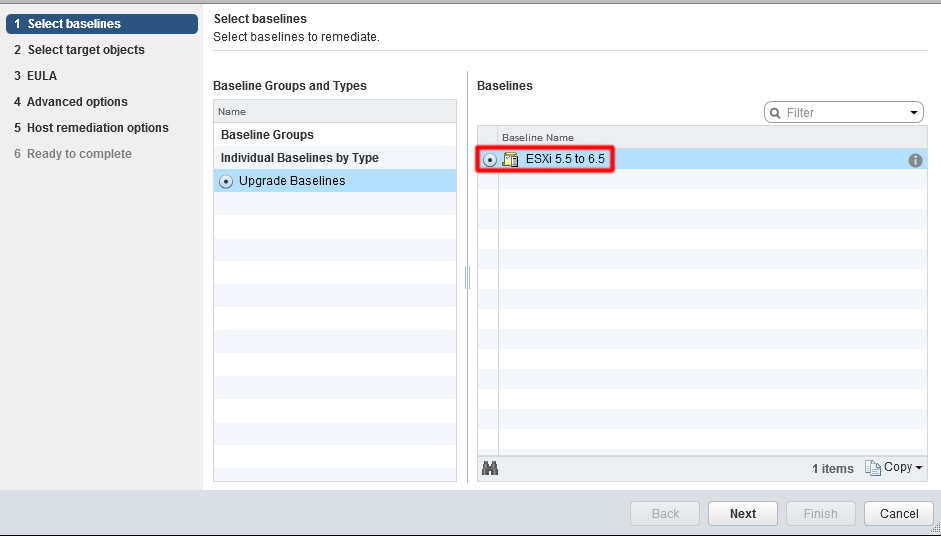 Select the Host(s) for remediation.

Read and Accept the EULA.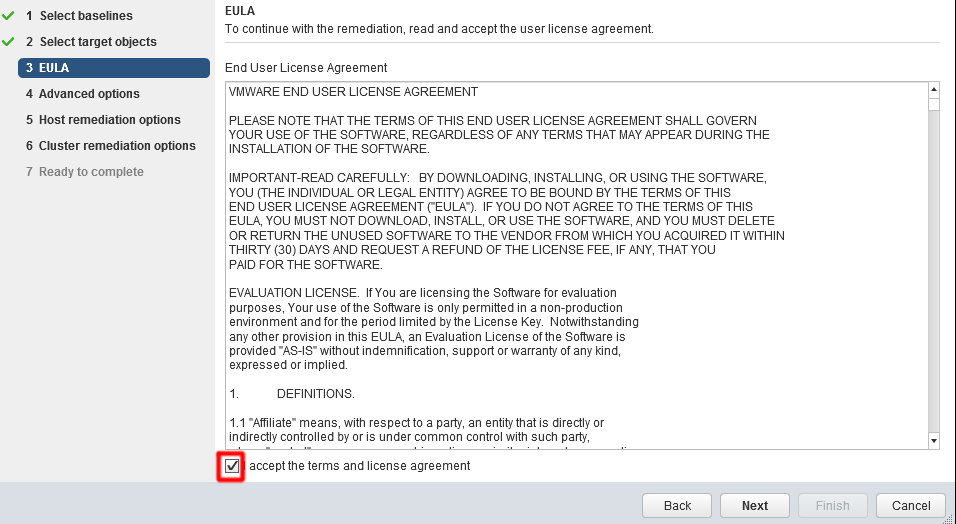 In the Advanced Options section, we can schedule a specific time to run the remediation and/or choose to ignore unsupported items. For this, we will leave both unchecked.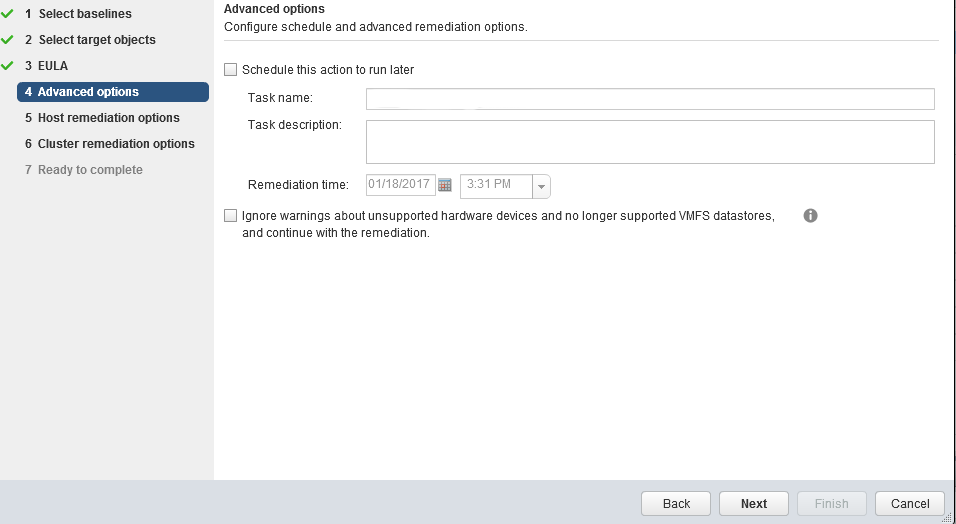 Next, specify maintenance mode options. The first option will be determining what you want to be done with machines when the host enters into maintenance mode. We want to do this without vm downtime, so we will leave VM Power state at Do Not Change VM Power State. Options for disabling removable media and retrying maintenance mode can also be changed.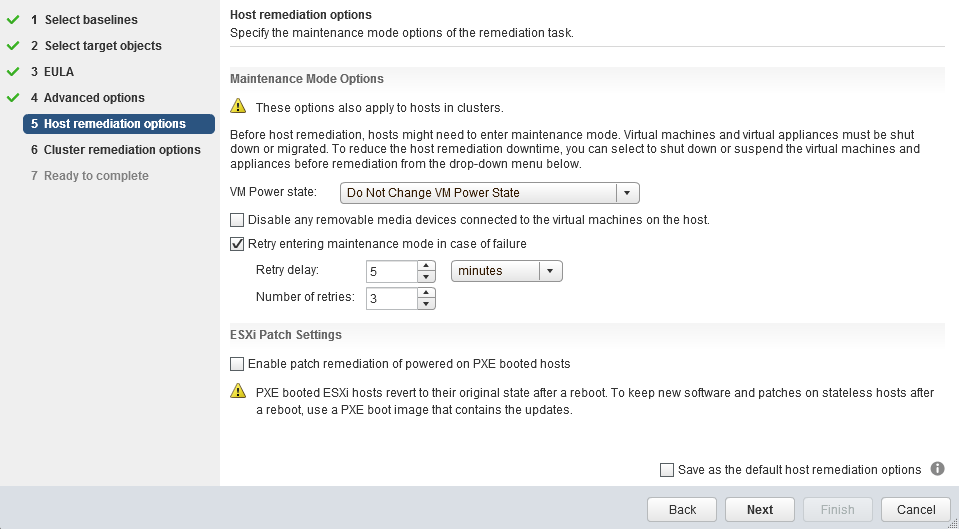 Finally, select the pertinent cluster options you would like to apply during the remediation.
Note: For hosts in a cluster, the remediation process runs sequentially by default. If you would like to run the remediation in parallel, indicate that during this step.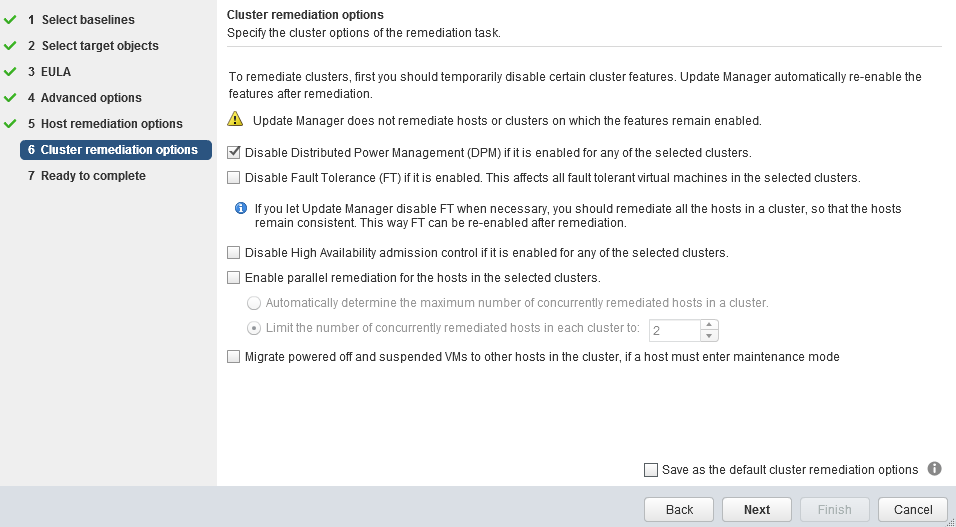 Review your selections and click Finish to start the remediation.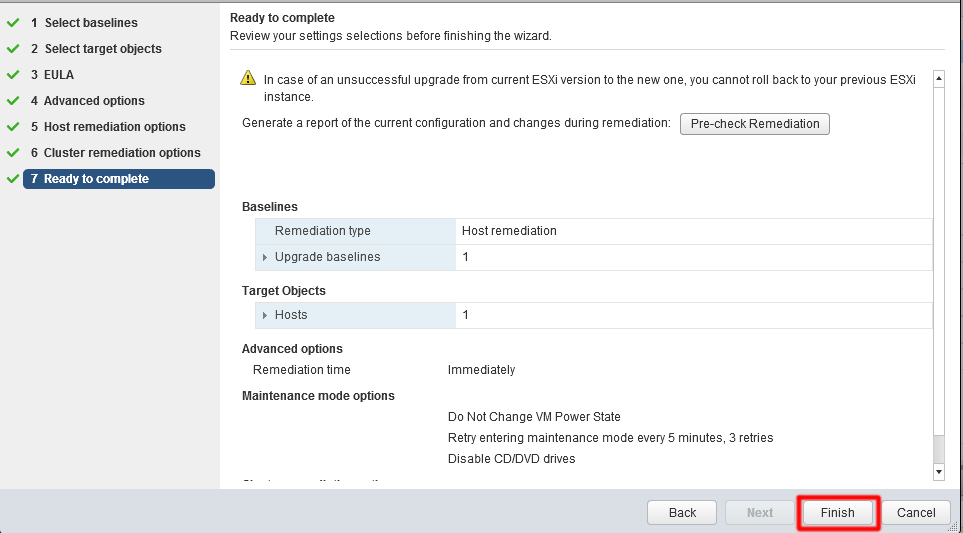 Monitor progress from the Recent Tasks pane. The remediation process will look like this:
The first host is put in maintenance mode

VMs will be migrated to other cluster hosts

Host upgrade begins in background
Host restarts once installation is complete
Host reconnects to vCenter
Host exits Maintenance Mode
Remediation process moves to next host
Once the remediation process is complete, your ESXi hosts will be upgraded to 6.5.