Attention Veeam and Microsoft Exchange 2016 users; if you are running Veeam B&R against your Microsoft Exchange 2016 environment, you may want to wait to upgrade to Exchange Cumulative Update 5.
As noted in Veeam Digest, customers who upgraded to CU5 are experiencing restore failures while utilizing Veeam Explorer for Exchange.
The specific restore failures pertain to mailbox item-level recoveries, which are failing due to a significant change in the mailbox database structure. Typically, users receive an error stating Invalid property BLOB.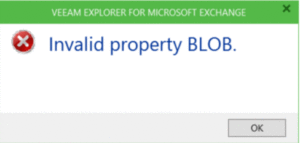 Veeam is in the process of updating Veeam Explorer for Exchange to be able to parse the new blob format correctly. They plan to include the fix in Veeam Backup & Replication 9.5 Update 2.