In the past, I've discussed a few of my favorite features in Zerto; however, a recent feature that flew under my radar was the support for Host Remediation using VMware Virtual Update Manager. If you utilize Zerto in your VMware environment, you may have run into an issue using maintenance mode on hosts with Virtual Replication Appliances (VRA).
First, a quick background. Zerto VRAs are virtual appliances deployed to handle the continuous replication between protected and recovery sites. These VRA's are typically installed on each ESXi host to perform data compression and transportation across your WAN.
Versions prior to 5.0 required VRAs to be manually shut down for a host to successfully enter maintenance mode. As you can probably tell, this manual shut down process posed an issue for admins who were automating maintenance mode tasks across their environments; notably remediation through Update Manager.
To address this matter, Zerto has incorporated support for host remediation in release 5.0 U1. Now, when a host is put in maintenance mode, Zerto monitors the host's workload to ensure all machines have been migrated or powered down. Once the workload fits maintenance criteria, Zerto will signal the VRA to shut down; thus, allowing the host to enter maintenance mode. Conversely, once the host exits maintenance mode, Zerto automates the power on of the VRA. As machines are migrated back to the host through further remediation, the powered on VRA is prepared to handle their replication.
Enabling this feature is simple and can be done directly from the Zerto Virtual Manager.
Enable Zerto to Allow Host to Enter Maintenance Mode
First, log into the Zerto Virtual Manager (ZVM). Once logged in, click the Menu Icon and select the Site Settings option.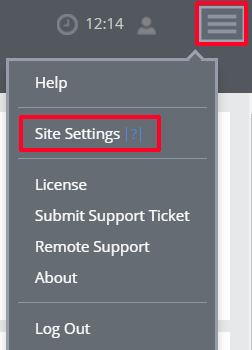 From Site Settings, navigate to the Policies section. Under VMware Virtual Update Manager, check Allow Zerto to always enter hosts to maintenance mode during remediation.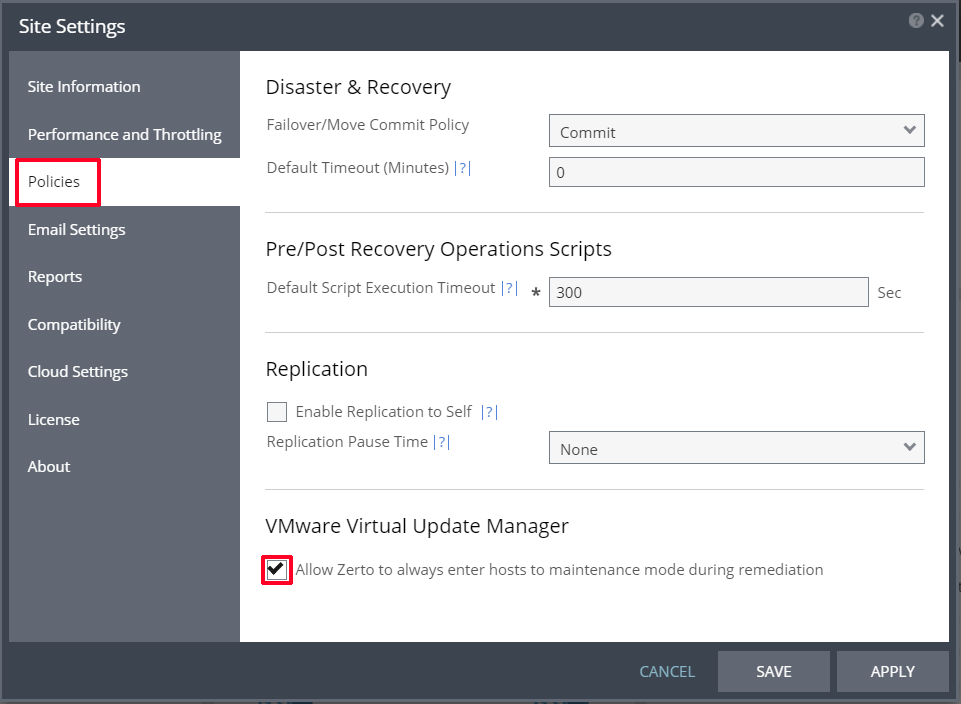 Apply and Save when finished.
New Features in Zerto Virtual Replication Page 11.